SCPOP 2000
(updated March 2001)
"The Sounds Peak"
PLEASE REMEMBER THAT SCPOP SOFTWARES ARE NOW UNSUPPORTED BY THE AUTHORS!
---
Scpop2000 Sound Canvas compatibility requirements

This "higher" version is compatible only with Sound Canvas models of the SC-88 family and above (see SCPOP98 proj or FAQ page for detailed modules list), but, due to its really high polyphony demand, and depending on the music style you play, it is often necessary to have the SC- 8850 module, that has plenty of voices available.
This version of SCPOP project has the more updated features, the better sounds and the largest available freedom of stops choice.

PC Hardware notes

Both AMD and INTEL based Systems are compatible. Authors have PIII500 and Athlon Tbird 800 without any problem. High speed systems would be recommended for live-recording Cakewalk session.. USB midi devices seems ensure better performances.

SCPOP2000 V2.0 Final Release allows you to select 2 interfaces, "Classical" and "Graphical". See below for screenshots of both.
---
This is a screenshot of the main panel, Graphical Interface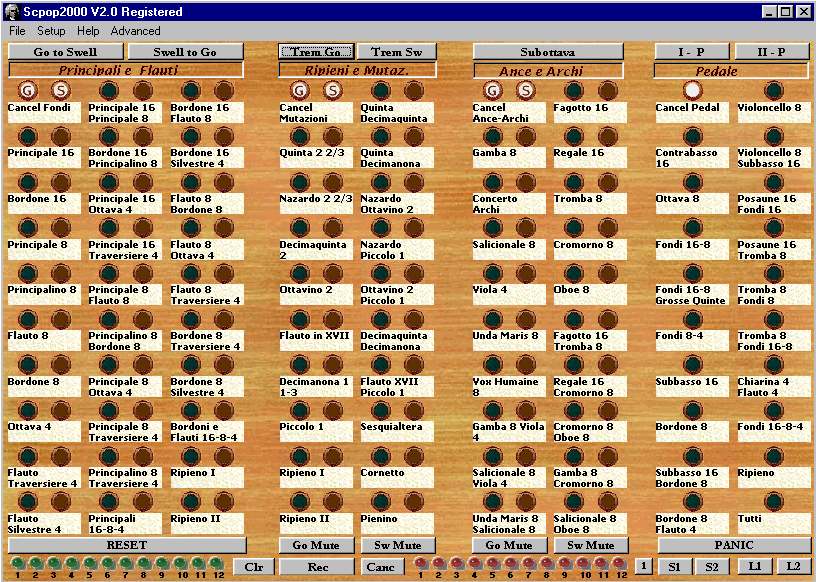 This is a screenshot of the main panel, Classical Interface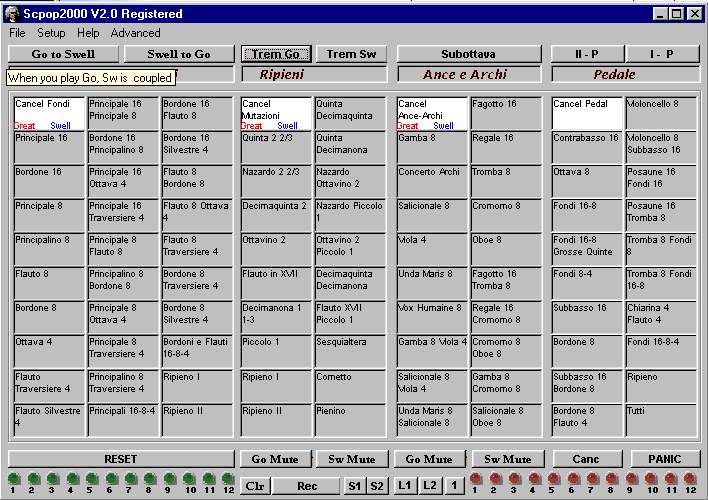 Besides an advanced panel offers a lot of other features not present in other SCPOP versions.

DOWNLOAD SCPOP2K V2.0 Final Version
REGISTRATION IS NOW FREEWARE, SIMPLY DOWNLOAD
THE REGISTRATION FILES (CLICK HERE).
IT COSTED US $50 TILL MARCH 2005. THE AUTHORS WISH TO THANKS THE MANY FRIENDS THAT HAS CONTRIBUTED ALONG THE YEARS.
---
What's new in release 2000 with respect to release 98 ?
** FIRST, YOU NEED FOR SC88 OR HIGHER ROLAND MODULE **
V2.0 FINAL RELEASE : 2 interfaces (graphic and classic) , help, many sounds and reverbs improvement...

Graphic Interface ,fixed size, for large monitors : 1024x768 , 64K colors are recommended. Wooden stops panel and user free font settings is now available.

Classic Interface, for all monitors and laptops: this is full-user resizable.

Freedom of combine stops by yourself. Stops are divided into groups (Fondi, Ripieni, Ance-Archi) each one with an almost complete set of combination. Stops from different groups can be freely combined, up to a maximum of 12000 possible stops combinations.

All the stops have been revised and many new stops have been added: Regale 16, Oboe 8, Vox Humaine, Viola 4, Flauto traverso 4, Flauto in XVII 1 3/5.

Both Great and Swell have the same stops. To apply a stop to Great click on the left button of the stop label, to apply it to Swell click on the right button.

Volume balance of each stop for each group can be adjusted in the Advanced window, for even more detailed capabilities of combination.

Temperament can be choose to be based on a different note than C. If your piece is in F# you can still use Silbermann temperament without having "wolfe-tones", just using a Tune Temperament based on F#.

Revised choice of reverbs, with better effects.

Added the Mute/Restore feature for the stops groups.
Coupling Global Sliders is completely free: None / Great & Swell / Great & Swell & Pedal

Subottava Feature is now available on Pedal. When enabled , pedal will add a note one octave-lower (32' effect).
---