The SCPOP Box

DOWNLOAD ALL TECHNICAL DETAIL
TO BUILD YOUR SCPOP BOX (179Kb)
---
Work by Roberto Rainaldi
Here is presented a project developed by Roberto Rainaldi in Milan (Italy), to use SCPOP sounds without the PC. The SCPOP sysex are stored into EPROM (integrated circuits) and simple but effective selectors makes you able to choose the stops to send to the Sound Canvas.
The actual configuration is hand made, by a lot of wires and very simple materials. The next step would be to print the wire layout on a circuit board.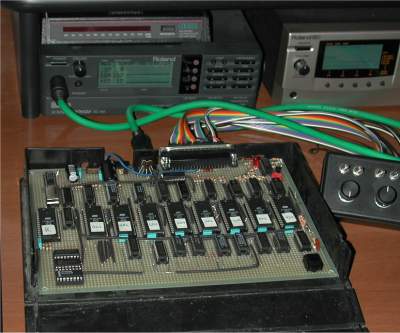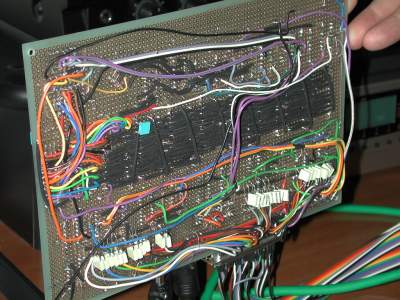 Roberto and R.Diodati met together and tested the device: it works, and the speed of the sysex sending is a lot more than using the PC and the SCPOP software! Roberto changed the stops while Raffaele was playing, without hearing any pause time!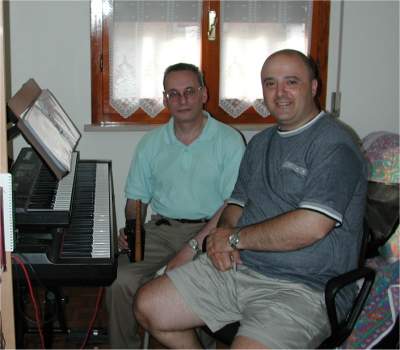 Roberto Rainaldi (left) and R.Diodati(right)
Another musical interest of Roberto is to play the "Scottish bagpipe". He realized also a midi version of this instrument, and played with Raffaele by using the SCPOP sounds. If you are curious listen to these two midi files recorded at Raffaele's home:
Whistle o'er the lave o'it.mid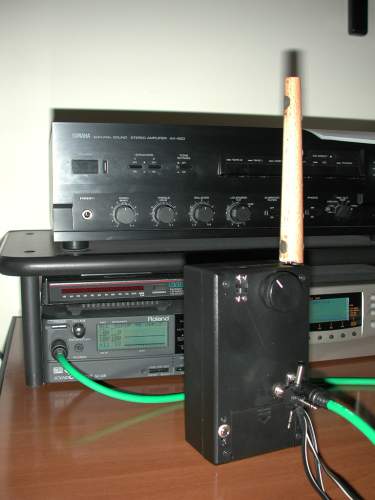 The "midi bagpipe" realized by R.Rainaldi,
connected to the SC-88
---